Table of Contents
As a Toronto landlord, it is important that you ensure your property is up to code. Whether you live on the same property or on a separate property altogether, you need to make sure that your tenants enjoy the appropriate living conditions. Windows are an essential part of any property and many landlords do not know that there are regulations in this regard too. Here's what you need to know about the windows of your rental property.
Window Replacement Responsibility
If the window is showing signs of wear and tear or damage that was not caused by the tenant, then it is the responsibility of the landlord to have the window replaced. If, on the other hand, the tenant is responsible for the broken window, the tenant is responsible for the window replacement.
Drafty Window Replacements
This ties in with the point mentioned above. If the window is no longer operating as it should and there is a draft, it is often the responsibility of the landlord to arrange a window replacement. Only if the tenant is responsible for damage will the tenant become liable.
Arranging a Window Replacement
It is usually best to have the tenant and landlord present for the quote, any contract signing and the installation. Of course, it can be difficult for a landlord, their tenant and the window supplier to find a time that suits everyone. For this reason, many landlords leave the scheduling up to their tenants but they only give the go-ahead once they have studied the quote and discussed the matter with the window supplier.
Full-frame or Retrofitted Windows
When your window supplier visits your property, you can have them assess the damage and provide you with their professional opinion in this regard. Retrofitted windows are an excellent option if the frame is still perfectly intact. If the windows are fairly old, your window specialist may recommend a full replacement. Remember, it is worth investing in quality windows since they will serve you well for many years to come. Inferior quality windows will need to be replaced fairly quickly in comparison and this will mean added inconvenience and it can cost you more in the end.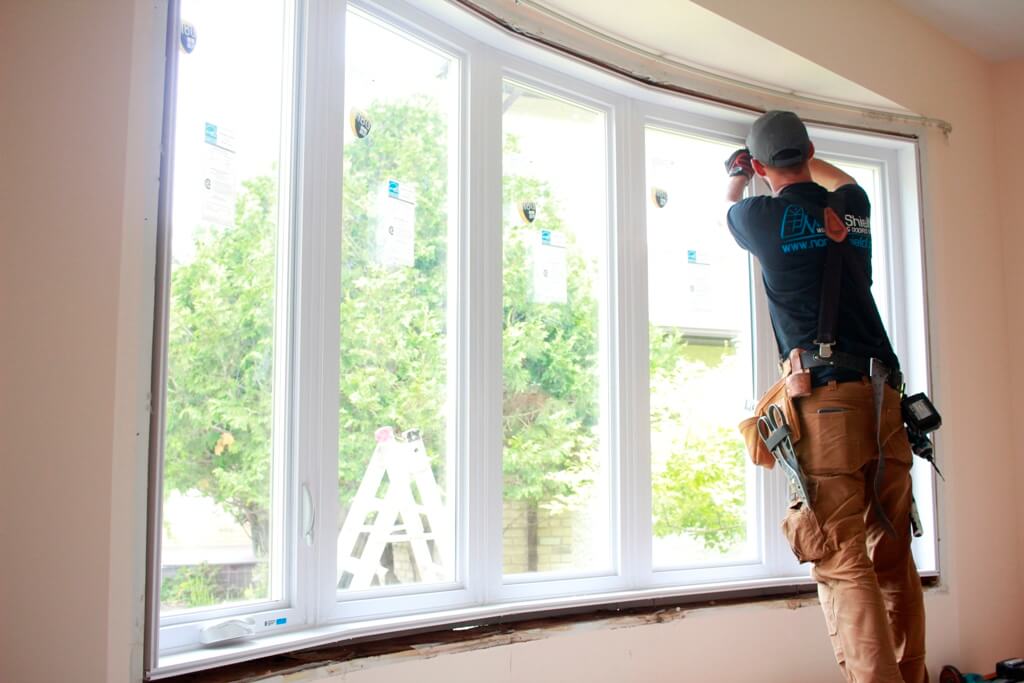 Energy Star Requirements
When considering options such as double or triple-pane windows, it's important to take note of the energy star rating before placing a window order. Each area has its own Energy Star requirements so, make sure that the windows you order comply with the requirements for your location.
Canadian Fire Code Regulations for Windows
This is probably one of the most important factors to consider before ordering a window for your rental property. Every room that is used as a bedroom must have egress or fire-code windows. This means that the window needs to be large enough that it can be used as an emergency exit and it should be easy to open without any special tools, keys or specific knowledge. The window needs to provide adequate ventilation throughout the year and at least 5% light to the whole room.
Egress Window Specifications
The precise specifications for egress windows may vary from province to province. For Ontario, all egress windows must:
be openable from the inside without tools. This also applies to any enclosures installed over the window.
provide an unobstructed opening with a minimum area of 0.35m² and none of the dimensions less than 380mm.
maintain the required opening without the need for extra support.
have a maximum height of 1 000mm above the floor except in the case of basement windows.
have a clearance of no less than 550mm in front of the window if it opens into a window well.
not include a sash that reduces the clearance and restricts escape in an emergency if this window opens into a window well.
adhere to the minimum dimensions even if it is a sliding window. In the case of sliding windows, the openable portion needs to be measured accordingly.
It is also worth noting that special provisions are made if the sleeping area in question is located on a mezzanine. In this case, if there are no obstructions more than 1 070mm above the floor, the window can be on the main level of the unit. Provided the mezzanine is no more than 20m² or 25% of the live/work area (whichever is less), and there is a direct, unobstructed path directly from the mezzanine to this window. In addition, if there is a door on the same floor as the bedroom and this door provides access to the exterior, you may not be required to adhere to the window regulations above.
Types of  Windows
When browsing for egress windows, it's important to remember that certain windows do not meet the necessary standards. The most popular options include casement, slider, and single or double hung windows. Again, it is important that you ensure your windows are the appropriate size and that they are installed according to the regulations that apply to your province. Awning windows, while beautiful, are not large enough and will not meet these requirements.
Replacing Multiple Windows
If you have one window that has been damaged for whatever reason, you might want to have it replaced urgently. On the other hand, if most or all of your windows are getting on in years and they are looking worse for wear, you may benefit from replacing several windows. If you own more than one rental property, it could even be worthwhile obtaining a quote to replace windows on multiple properties. Larger orders might make you eligible for a discount or other incentives that will make this investment that much more cost-effective.
Claiming a Tax Return
As a landlord, you will enjoy certain tax benefits. The amount you can claim back will depend on several factors. You may wish to consult with a professional in order to determine just how much you can expect to receive.
For quality windows for your property and expert advice, contact NorthShield Windows and Doors at Winnipeg: (204) 272-3725 / Toronto/GTA: (905) 326-3444. We will visit your property and provide you with a free in-home estimate. Our team will also answer any questions you may have.