Triple-glass windows have become an extremely popular option for modern Canadian homes. With temperatures reaching all-time lows, Canadian winters can get pretty extreme, which is why homeowners often opt for the ultimate protection that is only offered by triple-glass (or triple-glazed) windows. They're durable, tough, and can endure the harsh Canadian climate. But what makes these windows so special? In order to get a full understanding of why triple glass windows are so popular, we first have to understand how windows are evaluated in the first place. Here's what determines the quality of a window:
In Canada, windows and doors are
tested
using particular standards and values that are determined by the Canadian Standards Association, including:
Energy rating

- measures the balance between the U factor, solar heat gain and air leakage. Energy rated windows and doors bear the energy star label, which means their energy performance was certified by an accredited agency in Canada.

The U factor

or heat transfer.

Solar heat gain

or how much of the sun's heat can pass through the window.

R-Value

or resistance to heat transfer.

Centre-of-glass rating

that only refers to the glass portion of the product.

Visible transmittance

or how much light can pass through the product.
In order to benefit from your triple glass windows, you should always make sure that they have been certified for energy performance by an accredited institution and that they bear the energy star label. Different types of windows bear different ER ratings, and the final rating depends on the above-mentioned values. 
In order to be labeled ER most efficient in 2019, a window must have an Energy Rating of 36 or higher, among other
criteria
. Here are some examples of the different types of windows and the criteria used to determine their energy rating. Note how the overall score of triple glass windows is significantly higher than other types of windows: 
Triple glass windows usually bear the highest energy rating because of their unique structure and extreme weather resistance. Here are the main characteristics of triple pane windows, and some of the main benefits of installing them in your home: 
What are triple-glass windows?
As the name itself suggests, triple glass windows consist of three panes of glass with a sealed frame, just like double pane windows feature two. The gaps between the panes are filled with inert gas such as argon or krypton. The gas is heavier than air, which makes it work as an insulator for both heat and noise. 
Better energy efficiency
Triple glass means better energy efficiency. Since triple-glass windows feature two gas-filled chambers, they offer higher energy performance. With these low-emissivity glass chambers, the extra coating in triple glazed windows performs better at stopping the warm air from escaping during the winter but also prevents the heat from entering in the summer. 
In addition, triple-glass windows usually have an additional layer of Low-E coating which translates into higher energy efficiency. The Low - Emissivity (Low-E) coating is an invisible glass coating that blocks heat loss while also allowing the sun's natural warmth in. Low-E coating also blocks the harmful UV rays from entering your home. In triple pane windows, there can be two or three layers of Low-E coating added to the non exposed surfaces of the glass.
Official
data from the Government of Canada suggests that windows and doors can be a major source of energy loss - up to 35%, and by choosing
energy star rated windows and doors
, you could save up to 8% on your monthly energy bills.
In addition, since triple-pane windows feature an extra glass pane, they are less likely to experience condensation, which prevents moisture and humidity from entering your home. 
Better sound insulation
Triple-glass windows usually have better sound and thermal insulation than other windows. Soundproofing and weatherproofing are the two most important factors in determining the quality of windows. Although soundproofing is not included in Energy Star certification, property owners across Canada agree that this is one of the deciding factors in determining whether they will choose a certain type of window. Triple pane windows are naturally more soundproof because of the additional glass pane, but they also feature an Insulating Glass Unit between the panes, which helps reduce sound transmission and improves the efficiency of the window. 
Triple glass windows make for a greener home
In recent years, there has been increased focus on reducing carbon emissions and global warming. Since triple-pane windows reduce energy usage through their advanced insulation properties, they're the ideal option for a greener home. 
Double glass vs. triple glass windows
Many Canadians wonder whether they should opt for triple or double pane glass, and the decision will majorly depend on the climate. From our experience, triple glass is usually the right choice for areas where the climate is a bit harsher during the winter (such as Winnipeg). In order to determine whether you should choose double or triple glass windows depends on a variety of factors. Here are some of the main differences you should take into consideration when choosing the right windows for your next window replacement project: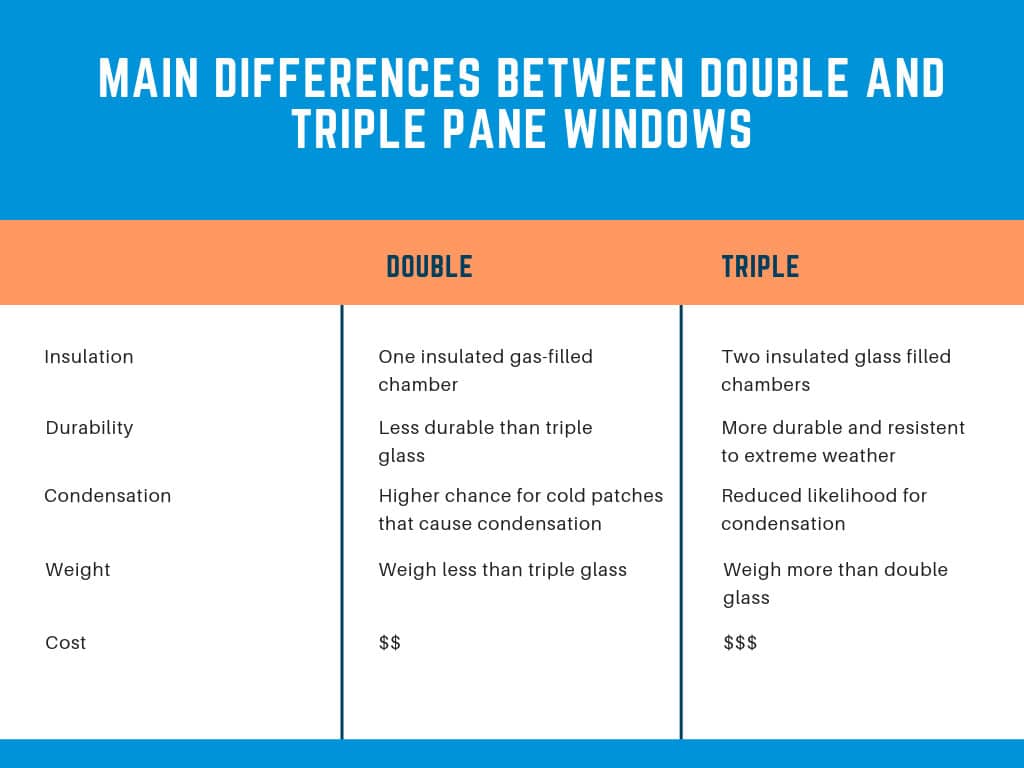 Should you go for triple-pane windows replacement?
When installed correctly, triple-glass windows ensure less wasted energy, which translates into lower energy bills. At NorthShield Windows and Doors, we are committed to helping households across Canada achieve maximum comfort for their properties with high-quality, Energy Star rated windows. To make sure you get the best results and find the right windows for your home, we offer a free, non-obligatory inspection, and our experts are always at your disposal to answer all of your questions. Get in touch with us today and experience the difference that quality windows make. Experience the NorthShield difference!
Contact Our Winnipeg Location
(204) 272-3725
Contact Our Toronto Location
(905) 326-3444