Dining Room Windows Replacement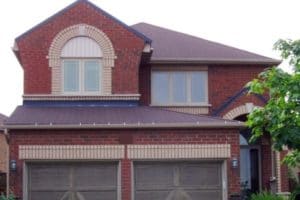 When you think about a dining room, what aesthetic first comes to mind? A regal space with grand furniture and moody light? Or a bright, open space with a ton of light and even some scenery? Before we dive into window types, let's consider the window material. If you live in a country where the climate constantly changes, it may be worth investing in energy-efficient windows. Ideally, the window you select should be durable and budget-friendly. Window installations and replacement are an investment and should be treated as such. So after taking all of this into account, vinyl windows are the most optimal solution for the dining room.
Vinyl windows can be energy-efficient, are affordable and stand the test of time. In addition, they do the basic functions; there are many window types available in this particular material. They are also operable, provide ventilation and combat moisture and prevent condensation – allowing you, and the room, to breathe.
At NorthShield Windows and Doors, our extensive inventory is filled with a wide selection of high-quality vinyl windows. Moreover, we offer customizable options to best fit your needs. As a reputable and top-rated Canadian company, our team of fully trained professionals will be there every step of the way. From selection to installation, we have you covered. If you are in Ontario, you can reach us at (905) 326-3444, and if you live in Winnipeg, call Windows Winnipeg at (204) 272-3725.
Factors to consider
Picking the right window type for your dining room might not be at the top of your list but it can make all the difference. From its style, functionality, use and operability – among many other things – need to be taken into consideration as well.
Energy Efficiency

The first on our list is energy-efficiency. Fortunately, vinyl windows excel at this. Not only offer superior thermal protection compared to other window materials, vinyl windows increase insulation in a way that reduces the home's energy consumption. So the hot or cold air circulating within does not escape nor does the air from the outdoors infiltrate your home through those windows. Moreover, with energy-efficient windows, you save more in your utility bills!

The Energy Star Seal: The blue sticker guarantees the window won't leak air upon installation. It also ensures that the window has insulation properties that bring your energy costs down by up to 10%.

Low-E Coating: The metallic layer applied to the glass of your window allows the sun's energy into your dining without preventing heat loss. This is what helps the home temperature stay regulated.

Sizes

Windows sizes vary depending on numerous factors. From your personal preferences to the ideal fit, as well as what's recommended by the province in which you reside. For example, a custom sized or custom shaped window would depend on the room of the house, and what the homeowner is looking for. However, here are the standard sizes one can expect:
Window Sizes Based on Window Types
| | | |
| --- | --- | --- |
| Window Type | Maximum Width (inches) | Maximum height (inches) |
| Single Slider (Double Pane) | 78 | 54 |
| Single Slider (Triple Pane) | 78 | 54 |
| Double Slider (Double Pane) | 78 | 54 |
| Double Slider (Triple Pane) | 72 | 48 |
| Single Hung (Double Pane) | 49 | 80 |
| Single Hung (Triple Pane) | 45 | 78 |
| Double Hung (Double Pane) | 49 | 78 |
| Double Hung (Triple Pane) | 48 | 68 |
| Casement (Double Pane) | 38 | 78 |
| Casement (Triple Pane) | 36 | 78 |
| Awning (Double Pane) | 48 | 60 |
| Awning (Triple Pane) | 50 | 50 |
Building Code

Every country has its own rules and recommendations when it comes to window installation. As such, you need to be mindful of the building code when you are installing or replacing windows in any room of your home. If you are not, you may be fined and even asked to demolish and redo the window installation. So it is best to ensure you're up to date with all rules and regulations. If you are uncertain, you can always hire an experienced window installer. Not only will they be able to give you an accurate estimate, they'll also recommend options that are within the guidelines of where you live.
Price

Window prices vary as it is, and the same can be said about window prices for the dining room. In order to figure out how much a dining room window installation or replacement will cost you simply look at the standard prices within your area. This can be done by doing some online research, or even filling out an online windows cost estimation tool – or even by inquiring with a local window installer. At NorthShield Windows and Doors, the cost often falls between $450 to $1500 depending on the type of window, and the room in which you want the window installed.

| | |
| --- | --- |
| ✓ Kitchen | $340 - $1200 |
| ✓ Living Room | $1200 - $5000 |
| ✓ Bedroom | $450 - $1500 |
| ✓ Basement | $240 - $640 |
| ✓ En Suite | $500 - $1500 |
| ✓ Family Room | $1000 - $3000 |
| ✓ Foyer (entrance hall) | $900 - $2500 |

Northshield - Black Windows and Black Doors

What is better black or white windows?

There are many reasons why black windows are a great choice for your home, and they are quickly growing in popularity. Black window frames are a great option when you want to add a bold design statement to your home's exterior and create a focal point in any room they're in. Black windows perfectly complement modern, farmhouse, and industrial home themes. As well, they are a good choice for homeowners who are trying to showcase a modern look in their traditional home. Black interior windows are especially good for use in rooms with lighter coloured walls, so the contrast between the two helps to create a dramatic effect. Black window frames can also be used in rooms with darker coloured walls, but you will need to take extra care to ensure that the overall effect does not look too dark. Black windows are the way to go when you are looking to:

✓ Create a modern look ✓ Make a dramatic statement ✓ Accentuate a beautiful view ✓ Create a focal point 

 

What does having a black door mean?

Black front doors are a bold way to make a statement about your house and your sense of style. Entry doors are the first thing guests see when they arrive at your home, so it's important that it creates a good impression. A black exterior door is a bold choice that conveys strength and energy, which is why it makes such a great first impression. They add a bold, dramatic touch to any space, and create beautiful contrast to light-colored interiors. Black-on-black designs are becoming more popular and create a sleek design for your home. This being said, black front doors pair best with white, beige, light tan, and brick homes. When you're looking for a black door for your home, we can help you!   

Dining Room Windows Replacement 
Canada Greener Homes Grant

As buildings account for a large portion of Canada's greenhouse gas emissions, it is important to make them as energy-efficient as possible. The Canada Greener Homes Grant helps Canadians afford the costs of making their homes more energy-efficient, thus reducing emissions and supporting environmental goals. The grant covers up to a maximum of $5,000 per household. Eligible costs include those related to energy-efficiency assessments, insulation, air sealing, ductwork, heating and cooling systems, windows, and doors. To receive the grant, Canadians must first complete an application which can be found on the Government of Canada website.

| | |
| --- | --- |
| ✓ Bay Window | $2,000-$4,800 |
| ✓ Bow Window | $2,900-$5,000 |
| ✓ Casement Window | $420-$1,100 |
| ✓ Awning Window | $420-$1,100 |
| ✓ Fixed Casement Window | $350-$850 |
| ✓ Single Slider Tilt Window | $400-$950 |
| ✓ Double Slider Tilt Window | $420-$1,000 |
| ✓ Single Hung Tilt Window | $410-$970 |
| ✓ Double Hung Tilt Window | $420-$970 |
| ✓ Hopper Window | $400-$800 |
| ✓ Tilt and Turn Window | $540-$1200 |
| ✓ Triple glass windows | +18% to 23% |

Why would you need triple glass windows?

Experience the protection, energy efficiency, and the reduced energy bills of Northshield's triple glass windows. Our triple pane windows have 2 layers of air between the glasses, instead of the standard one layer. This triple glazing helps increase the thermal performance of your windows, by keeping the air temperature inside the home at consistent temperatures. Triple-glazed windows are available on selected types of windows and the average additional cost will be around 18% to 23%. Get Your Free In-Home Estimate.

.
Warranty

Looking into the warranty is crucial. A good window installer will offer warranties on both the window installation as well as colour and other configurations. In fact, it is best to stay away from companies who do not provide a warranty. They may be highly reputed, and may even claim durability in their products but nothing is ever certain. A lot can happen, and even go wrong during an installation. What's equally important is also ensuring the company you select has installers that are not only experienced but also bonded and insured. At NorthShield Windows and Doors, our installers are both bonded and insured and we provide our clients with reliable warranties. Our warranty period on windows varies depending on the different components, such as:
| | | | | | | |
| --- | --- | --- | --- | --- | --- | --- |
| | Frame | Hardware | Glass​ | Mini Blinds | Installation | Colour |
| Windows | 25 years |  25 years | 25 years | None | 15 years | 10 years |
| Entry Doors | 10 years | 5 years | 10 years | 5 years | 10 years | 10 years |
| Sliding Doors | 25 years | 5 years | 10 years | 5 years | 15 years | 10 years |
| Storm Doors | 25 years | 1 year | 1 year | None | 1 year | 1 year |
Best Windows for the Dining Room
The dining room doesn't require specific window types. Any window type can be installed, it simply depends on what you're looking for out of the space. While we carry a plethora of bathroom window options to choose from, here are some of our favourites to incorporate into the space:

Bow and Bay Windows

If openness and light is what you're looking to include in your dining room, look no further than bay windows. This window type comes in two selections; one where it combines three units at 30, 45 or 60 degree angles, and the other that is more of a 90-degree box bay window. Another window type that complements the open aesthetic are bow windows. It pairs multiple window units in a curving fashion; allowing in more light and permits a 'bigger and better' view of the scenery beyond the walls of your home. The best part about these types is that through our custom window options, you can combine bow and bay windows with double-hung or awning window types and create a functional window that best fits your needs.
Picture Windows

Another window type that enhances the outdoor view are picture windows. Since ventilation is hardly a concern for dining rooms, picture windows are an appropriate addition to the space. Typically fixed and inoperable, they are ideal if all you want is an unobstructed view. A perk to installing picture windows is that because they cannot be opened, you won't need to worry about any intrusions if that's a concern.
Casement

Casement windows

are another option for the dining room. Simple yet beautiful, this window type performs as an energy saver and temperature regulator. It can be opened 93 degrees for air circulation and is fully customizable to meet your aesthetic needs. If that wasn't enough, it's worth noting that casement windows are incredibly easy to clean as well as maintain.
Window Options We Provide
At NorthShield Windows and Doors, our factory-direct windows encompass two important aspects: quality and durability. We know that not every window is necessary or will even work for everyone. That's why, in addition to providing a wide selection of window types for any given space, we also offer completely customizable window options to choose from:
Why Choose Us?