Table of Contents
Tilt and Turn windows are sophisticated windows that offer flexible functionality for your home. In fact, this type of window is extremely popular in Germany and other European countries. They can be used as a fixed window, an inward opening casement window or a hopper window. You can shift between any of these modes by rotating the window handle by 90 degrees. And yes, it is quite fun to use them!
Take a look at the video below to see how these amazing Tilt and turn windows actually work.
If you tilt the handle downward, the window is locked shut. However, you turn it 90 degrees to sideways and the window opens up horizontally like a regular window. Turn it 90 degrees further, 180 degrees from where you first started, and the window pulls toward you with an opening from above.
Therefore, they can be used however you please.: as a regular casement window or as a hopper window opening vertically on the inside, allowing ventilation for the room.
Windows Replacement Toronto & the Greater Toronto Area
Why Use Tilt and Turn Windows?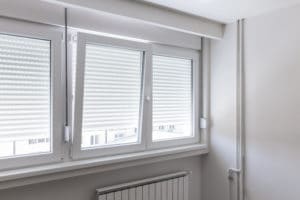 They are highly practical and functional compared to most other types of windows. If you have a tiny room with limited space, these windows can make a space look bigger and brighter. Think of tiny dens and washrooms, they can be brightly lit and optimally ventilated with this window. Tilt and turn windows can also double as an emergency exit for your house since it opens horizontally all the way through.
Pros of Having a Tilt and Turn Window
Fun to use, easy to maintain
Who doesn't want to test out the handle multiple times before settling for the right kind of window setting they prefer! These windows are pretty easy to clean and maintain as well. No more hanging outside the window to get those corners and the glass clean. Since these open all the way inwards, they can be cleaned on both sides!
Tilt and turn offers superior insulation
Other types of windows don't naturally have insulation unless they are fitted with double glazed glass. Due to their design, these windows come with air-tight sealing that protects your house from draughts and air leaks. If you have an air-conditioner installed, these are the windows to choose to prevent any air leaks and higher energy bills. Plus, if your windows leaking during the rains and excessive condensation really bother you, these windows don't have similar issues. The water doesn't leak into the house and you can even keep the windows open during the rains!
Flexibility!
As mentioned earlier these windows can be set up any way you like and offer different modes of ventilation as per your needs.
Kid and Pet-Friendly
Children and pets have one thing in common, they are forever looking to escape the house. If you constantly worry that keeping a window open might encourage them to venture out and put them at risk, then these tilt and turn windows are a lifesaver. When you open the windows vertically inwards you get all the cross-ventilation you need without putting your loved ones at risk.
Sound and Thermal Insulation
Noisy neighbourhood killing your peace? These windows are the solution for it. They also keep the warmth inside and the cold air outside during winters. These tilt and turn windows are a great advantage to stay warm and reduce unnecessary energy bills during those chilly winters in Winnipeg and other colder parts of Canada.
Cons of Having a Tilt and Turn Window

Tricky Repairs
Since the design of these windows is intricate, any damage to the hinge or air-tight sealing can be trickier to handle and may drive your repair costs.
Need to place it right
Unlike traditional windows, these windows open inward. Hence you need to plan your room decor and other furnishings right so these windows don't collide with it. Therefore, before installing them you might need to find the right placement for these windows and adjust your furnishings accordingly.
Design Options with these windows
Since these windows are sophisticated, they naturally add a modern charm to your decor. If you are looking for a minimal look that is versatile and functional, tilt and turn windows are your best bet. These windows come in different sizes and finishes as per your preference. If you are a traditionalist and love the wooden aesthetic, but still love the functionality of these windows, woodgrain finish would be a great option for you.
Tilt and Turn Windows in Winnipeg by Northshield Windows & Doors
We at NorthShield are committed to delivering excellence. This ethic applies to not only our products but also making our customers happy. Our tilt and turn windows are installed by our professional window experts and they are happy to sit with you and discuss the right placement before any installation begins.
Our experts are happy to guide you through the 35 colour options and advise the right one for your home.
Our products are manufactured with the environment in mind and are energy star rated. We don't just say it, we practice it.
Our windows come with a transferrable Lifetime Warranty so you stay assured of the quality of products you are buying and the service delivered. We are a local Canadian company hence know the weather and its challenges intimately.
These windows come fitted with LoĒ-180 that deflects the sun's heat and UV radiation and therefore, save energy bills on heating and cooling.
Common FAQs about Tilt and Turn Windows in Winnipeg
Q: Are tilt and turn windows more expensive?
They are cost-effective. If you are looking for a short-term investment these windows might seem a bit expensive. However, we aim to quote our clients with an accurate cost estimate that is entirely reasonable and budget-friendly. Tilt and turn windows are meant to be a one-time investment that reaps benefits for years to come.
Q: How do I open tilt and turn windows?
You can open the tilt and turn window by rotating the handle in the 90 degrees angle.
Q: How big can a tilt and turn window be?
They come in a variety of sizes, depending on your room space and dimensions.  Book an appointment for a housecall and we can do a free in-house estimate today!
Q: How can I make my windows soundproof?
Our tilt and turn windows are manufactured to provide sound and thermal insulation. We can even customize the window glass for you by fitting triple glazed glass for the highest level of insulation.
Q: Are tilt and turn windows secure?
Yes, they are secure. You can choose the type of hardware you want installed on your windows. Our high-quality craftsmanship ensures that they are fastened securely and offer you maximum benefits of the windows. This means keeping your home safe from outside elements.
Q: Can tilt and turn windows open outwards?
No, these windows can swing inward or open inward from the top.
Q: How much do tilt and turn windows cost?
It depends on the size ordered and the type of customizations opted. Give us a call for a free in-house estimate today!