Living Room Windows Replacement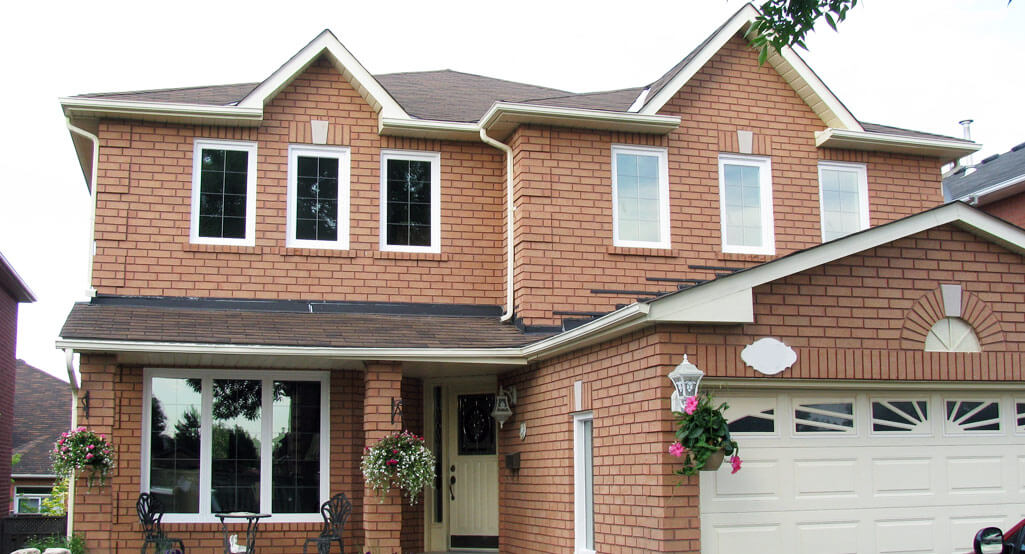 The living room is the centerpiece of your home. This is where you unwind after a hard day at work, relax with your family and entertain guests. That's why it is so important for your living room windows to not only look great, but they also have to provide maximum comfort and energy efficiency, especially if you live in Canada.  As an experienced company for windows replacement in Winnipeg and Toronto, we can safely say that, when it comes to living room windows, there are no better than vinyl windows. With the many window options available, you are sure to find the right option for your home.
Vinyl windows will not only give your home an improved, stylish look, but they will also help you save on those high energy bills with advanced features such as Low-e coating or double/triple panes for maximum energy preservation. Given that the winters in Canada can reach extremely low temperatures, the advanced technology applied in the production of our factory direct windows makes them the best choice for improving the comfort of your home. Below is everything you need to know about our vinyl windows replacement from our experts in Toronto and Winnipeg. You can always get in touch with our team if you have more questions. We would be more than happy to help you. 
Give us a call at (905) 326-3444  to get in touch with our GTA team, or at (204) 272-3725 to get in touch with our Winnipeg team.
Factors to consider
Choosing the right windows for your home is not an easy task, and there are many factors you should consider before you decide which ones are the best option for your home. We're here to break down the very essentials that you should take into account and to help you make the best possible choice for your home. Here are some of the things to consider:
Sizes

The size of the windows you choose depends on various factors. Some windows can be cpmbined together, so you can cover more of your living room with windows and let in more light. There are also custom sized and shaped windows that can be modified to your particular needs. In terms of standard sizes, here's what you can expect:
| | | |
| --- | --- | --- |
| Window Type | Maximum Width (inches) | Maximum height (inches) |
| Single Slider (Double Pane) | 78 | 54 |
| Single Slider (Triple Pane) | 78 | 54 |
| Double Slider (Double Pane) | 78 | 54 |
| Double Slider (Triple Pane) | 72 | 48 |
| Single Hung (Double Pane) | 49 | 80 |
| Single Hung (Triple Pane) | 45 | 78 |
| Double Hung (Double Pane) | 49 | 78 |
| Double Hung (Triple Pane) | 48 | 68 |
| Casement (Double Pane) | 38 | 78 |
| Casement (Triple Pane) | 36 | 78 |
| Awning (Double Pane) | 48 | 60 |
| Awning (Triple Pane) | 50 | 50 |
✓ Building Code

Every country has its own set of rules when it comes to window installation. For example, in Ontario, a living room window must occupy no less than 10% of the area served. Make sure you know all the rules and regulations before you install new windows in your home. If you hire an experienced window installer, they will already have those regulations in mind upon giving you an estimate, so you'll know exactly where you stand.
✓ Price

The price of your windows will vary depending on what type of window you're after, the size of the space, the special features and so on. The best thing to do is research and get informed on the standard prices for your area. You can either do this through online windows cost estimation tools, or reach your window installer directly and ask them.

| | |
| --- | --- |
| ✓ Kitchen | $340 - $1200 |
| ✓ Living Room | $1200 - $5000 |
| ✓ Bedroom | $450 - $1500 |
| ✓ Basement | $240 - $640 |
| ✓ En Suite | $500 - $1500 |
| ✓ Family Room | $1000 - $3000 |
| ✓ Foyer (entrance hall) | $900 - $2500 |

Northshield - Black Windows and Black Doors

What is better black or white windows?

There are many reasons why black windows are a great choice for your home, and they are quickly growing in popularity. Black window frames are a great option when you want to add a bold design statement to your home's exterior and create a focal point in any room they're in. Black windows perfectly complement modern, farmhouse, and industrial home themes. As well, they are a good choice for homeowners who are trying to showcase a modern look in their traditional home. Black interior windows are especially good for use in rooms with lighter coloured walls, so the contrast between the two helps to create a dramatic effect. Black window frames can also be used in rooms with darker coloured walls, but you will need to take extra care to ensure that the overall effect does not look too dark. Black windows are the way to go when you are looking to:

✓ Create a modern look ✓ Make a dramatic statement ✓ Accentuate a beautiful view ✓ Create a focal point 

 

What does having a black door mean?

Black front doors are a bold way to make a statement about your house and your sense of style. Entry doors are the first thing guests see when they arrive at your home, so it's important that it creates a good impression. A black exterior door is a bold choice that conveys strength and energy, which is why it makes such a great first impression. They add a bold, dramatic touch to any space, and create beautiful contrast to light-colored interiors. Black-on-black designs are becoming more popular and create a sleek design for your home. This being said, black front doors pair best with white, beige, light tan, and brick homes. When you're looking for a black door for your home, we can help you!   

Living Room Windows Replacement 
Canada Greener Homes Grant

As buildings account for a large portion of Canada's greenhouse gas emissions, it is important to make them as energy-efficient as possible. The Canada Greener Homes Grant helps Canadians afford the costs of making their homes more energy-efficient, thus reducing emissions and supporting environmental goals. The grant covers up to a maximum of $5,000 per household. Eligible costs include those related to energy-efficiency assessments, insulation, air sealing, ductwork, heating and cooling systems, windows, and doors. To receive the grant, Canadians must first complete an application which can be found on the Government of Canada website.

| | |
| --- | --- |
| ✓ Bay Window | $2,000-$4,800 |
| ✓ Bow Window | $2,900-$5,000 |
| ✓ Casement Window | $420-$1,100 |
| ✓ Awning Window | $420-$1,100 |
| ✓ Fixed Casement Window | $350-$850 |
| ✓ Single Slider Tilt Window | $400-$950 |
| ✓ Double Slider Tilt Window | $420-$1,000 |
| ✓ Single Hung Tilt Window | $410-$970 |
| ✓ Double Hung Tilt Window | $420-$970 |
| ✓ Hopper Window | $400-$800 |
| ✓ Tilt and Turn Window | $540-$1200 |
| ✓ Triple glass windows | +18% to 23% |

Why would you need triple glass windows?

Experience the protection, energy efficiency, and the reduced energy bills of Northshield's triple glass windows. Our triple pane windows have 2 layers of air between the glasses, instead of the standard one layer. This triple glazing helps increase the thermal performance of your windows, by keeping the air temperature inside the home at consistent temperatures. Triple-glazed windows are available on selected types of windows and the average additional cost will be around 18% to 23%. Get Your Free In-Home Estimate.

.
✓ Warranty

Never buy windows without asking for the warranty. Serious installers will offer warranties on both the windows, installation, colour and other configurations. Also, you should check whether the window installer you choose for your new living room windows is bonded and insured. You never know what may happen during the installation process, and having insurance is the company's way of showing you they have your back if accidental damage or any other mishap happens to you or your property. 
| | | | | | | |
| --- | --- | --- | --- | --- | --- | --- |
| | Frame | Hardware | Glass​ | Mini Blinds | Installation | Colour |
| Windows | 25 years |  25 years | 25 years | None | 15 years | 10 years |
| Entry Doors | 10 years | 5 years | 10 years | 5 years | 10 years | 10 years |
| Sliding Doors | 25 years | 5 years | 10 years | 5 years | 15 years | 10 years |
| Storm Doors | 25 years | 1 year | 1 year | None | 1 year | 1 year |
Best Windows for Living Rooms
As a general thought, you should keep in mind that you will likely have to get a combination of an operable+inoperable window for your living room in order to get better control over air flow and lighting.
Casement Windows

Casement windows are a popular choice for living room windows replacement. Because of their flexibility in terms of sizes and styles, casement windows can be joined together to help you get the best view. Casement windows provide great energy efficiency and can be high or low profile. You can combine operable casement windows with fixed casement windows to get the most out of your window installation. Some of these options include:

✓ Installing a fully operable window on each side of an inoperable casement window (also known as casement-fixed-casement combination)

✓ Installing a casement window on one side of a fixed window.

✓ Installing a casement window between fixed windows (also known as  fixed-casement-fixed).

Picture windows

Picture windows are basically fixed, inoperable windows that are usually installed in combination with other, operable windows to maximize the view and improve the appearance of the living area.

Slider windows


Slider windows also offer numerous customization options and are a popular choice for windows replacement in Winnipeg and Toronto. At NorthShield Windows and Doors, we offer top quality slider windows that offer ease of operation and high control over air flow. Single slider tilt windows are a great option for your home. These windows are operated by a single sash, and they tilt inward for easy cleaning. They feature heavy duty triple weather stripping and a full interlocking system to maximize air tightness. Double slider tilt windows also offer enhanced control over air flow and a clear, unobstructed view. In addition, this window also comes equipped with co-extruded flexible seals to eliminate leaks, and a full interlocking system for improved security.

Bow windows

Because of their beautiful shape and design, bow windows are a great option for living room windows replacement. With a slight arc in the opening, bow windows allow for excellent control over airflow, while preserving energy and keeping your home comfortable all year round. Plus, they improve the curb appeal of the home significantly.

Bay windows

Bay windows are another excellent option for living room windows replacement, and they will surely make your home stand out. These windows project outwards and allow for a beautiful, panoramic view of the outdoors.
Window Options We Provide
Our factory direct windows come in a wide variety of colours to match your style, and there are numerous customization options that you can take advantage of. For example, we offer window grills and interior finishings to achieve a more stylish look, and our advanced windows offer various operating mechanisms that will make window cleaning a breeze. Our windows include lots of energy efficient and customization options:
Why Choose Us?
At NorthShield Windows and Doors, we offer a huge selection of high-quality, factory direct, energy efficient windows and doors. Our windows are not only known for their stylish features and high quality, but they also offer the latest in durability, design and security. Here are just some of the reasons why we are your best choice for living room windows replacement: 
Top rated window replacement company in Winnipeg and Toronto
Free estimate
Exclusive, high quality windows
Certified and trained installers
BBB A+ Rated
Financing available
Energy star rated windows
Some of our Living Room Window Replacement Projects