With so many amazing options for windows replacement, homeowners no longer have to settle for anything less than the best. Numerous colour, glass, style and energy efficient options provide limitless abilities in terms of window installation. In fact, there are so many options available that it is sometimes hard to find the best fit. We've asked our window installers in
Winnipeg
in
Toronto
for help. Here are their
windows replacement tips:
Reasons Why You Should Replace Your Windows
If you're thinking it's time to replace your windows, but you're having a hard time coming to a decision, here are some things to keep in mind:
Thermal efficiency - Our windows replacement experts say that the best time to replace your windows is when you feel you're losing energy. If you've been getting high energy bills, it might be your windows that are causing the energy loss and thus causing higher bills. To be more specific, you may have air leakage and poor thermal efficiency. Poor quality windows have poor thermal insulation, so it's important to consider everything from the age of the window and when it was installed, all the way to its insulation properties.
Single pane windows - A single pane window is certainly not enough to preserve the energy in your home, especially when it comes to colder areas like Winnipeg. A single pane window simply doesn't offer enough insulation to maintain your home comfortable both during warmer as well as colder months.
Windows in poor condition - If your windows are in bad shape, they may be the cause of other significant problems in your home besides energy loss. Specifically, windows in bad condition can contribute to water leaks, pest infestations, and humidity issues. Rotting frames, sills or sashes and cracked window panes are good reasons to replace windows.
Safety issues - Windows that are too loose or ones that don't open and close properly are a safety risk for everyone in your home.
Now that we have covered some of the most common reasons why you should consider window replacement, we will cover the main factors to consider when choosing
the best replacement windows
for your home: glass, frame, installation and design.
Window Glass
We'll talk about the importance of having good window frames, but right now we're focusing on what's inside. A double or triple pane window filled with argon gas is what you should be looking for. Argon gas is lighter than air, and the insulated chambers that are filled with argon gas help reduce the heat transfer. However, for colder areas such as Winnipeg,
windows with three panes
and 2 insulated chambers will ensure maximum thermal efficiency during the freezing winter months. These two types of windows provide significantly better insulation properties than single pane windows. In addition, these windows also protect the inside from the sun's UV rays during summer. From an energy preservation perspective, these windows are the best, there is no doubt about it.
How to Find Energy Efficient Windows?
Today, windows go through rigorous testing to ensure they provide the best protection and energy efficiency. To find
energy efficient windows
, all you need to do is find the blue Energy Star sticker. The
Energy Star program
is conducted by the National Fenestration Rating Council, and in order to qualify, windows have to meet high standards set by the organization. This includes U-value (measures window's heat loss) and solar heat gain coefficient (measures the amount of heat that comes through the glass).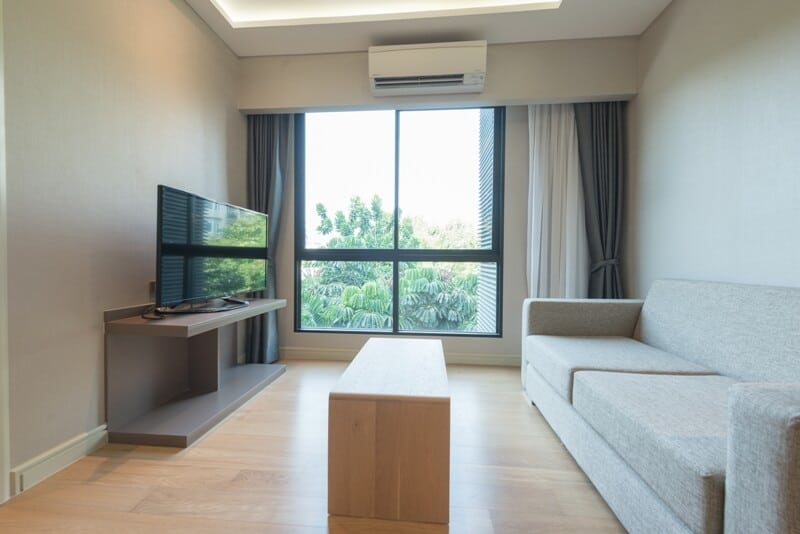 Window Frame
Most homeowners know that aluminum frames are more prone to heat and cold transfer since they transfer heat more quickly than other types of windows. Here's a breakdown of the 4 most popular types of frames you can choose:
Vinyl Windows:
Modern technology has made vinyl windows by far the most popular and most sensible choice, no matter what the climate. The benefits of installing vinyl windows are enormous if they're correctly installed. With an airtight installation and insulated glass, vinyl windows ensure the absolute best energy efficiency.
Wood windows:
Also a very popular window frame that is as aesthetically pleasing as it is functional. The only downside is that wood windows usually require more upkeep, because wood can potentially rot and bend.
Aluminum windows:
Extremely practical in rainy and humid climates, aluminum windows are not exactly the top performer when it comes to energy loss prevention. However, due to their strength, they meet some of the strictest coastal building codes in areas with frequent hurricanes.
Composite windows:
Made from wood shavings and plastic resins, these windows are usually installed where the owner wants to achieve the natural look of wood without the maintenance that comes with actual wooden windows.
Window Installation
There are many windows that offer great benefits for households across Winnipeg and Toronto, but our experts have picked 2 as top performers: casement and awning windows.
Casement windows:
These windows are extremely popular in cold and windy climates due to their extremely convenient crank opening system. The windows open outwards, and when wind blows toward the house, they will actually shut tighter. You can learn more about casement windows
here
. The best thing about casement windows is that they can be installed in combination with other windows (usually inoperable fixed casement or picture windows), which lets in plenty of natural light.
Awning windows:
These windows hinge at the top so that the window can open from the bottom, which helps with ventilation and provides protection from the rain. This way, they prevent leaks and allow for improved control over airflow.
Window Design
There are many options available today when it comes to the design of windows. Depending on how much natural light you want, windows are pretty easy to combine and match. It all depends on your personal preferences. Usually, the combination between operable and inoperable windows helps achieve the style you want without risking comfort.
Some Final Words:
With over 15 years of experience under their belt, NorthShield's window installation pros have helped many homeowners find the perfect, durable windows for their home, and they have some words of wisdom to share if you're thinking about windows replacement as well. Here are the tips straight from window installers themselves:
Never choose windows that are not energy star rated.
Opt for full installation instead of retrofitted.
Ask the installer if they do window installation estimates for free.
Ask if you can pay off your windows in installments.
If you'd like to know more about finding
the right windows
and the right installers for your home, feel free to call our team in
Winnipeg:
(204) 272-3725
or
Toronto/GTA:
(905) 326-3444
and we'll be more than happy to help you out.